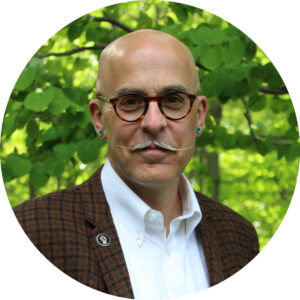 I have lived in the Chittenden 15 district with my wife, Marianne, since 2001. Together, we raised two daughters within the Burlington public school district who both then graduated from the University of Vermont. We have so many strong connections to our neighbors within the district and are truly privileged to live in such an amazing community. Similarly, I feel nothing but fortunate to have been served by the outstanding representatives who we have elected to become our voice in Montpelier. Upon honest reflection, I found myself a bit surprised to be considering Selene Colburn's request that I run to fill the seat she is vacating. As I thought more, I realized that I am perhaps in a great place to do just that. I was moved and energized by those who led our recent unionizing efforts with UVM Staff United and came to understand the obligations of service I have been taking for granted.
I moved to Vermont in 1996 shortly after entering the field of Higher Education Administration following my graduate degree from Colorado State University. Prior to that, I completed my undergraduate degree in Psychology and Sociology from the University of Wisconsin state system. In addition to working primarily for the University of Vermont, I have also held positions with the Human Resources Department for the City of Burlington and as a co-owner of a small landscape design-installation business. I received an initial certification from the Dry Stone Wallers Association of Great Britain and enjoy the continuing design of my own gardens.
I have worked with the UVM Center for Student Conduct since 2008. In my current position, I've learned the tremendous value of bringing restorative practices into conflict resolution work. I understand the need for continuous critical reflection on how those of us who have always benefited from systems of power and privilege must repair the inherent harm within those systems. I look forward to serving you with these values in Montpelier.