This week was largely ceremonial, but I want to pause and let you all know where I've landed now that the new biennium has begun in Montpelier. I remain so grateful for the support and engagement I've received already from so many of you in the Chittenden 15 district. And, before I find my tangents with this blog post, I want to be certain to let you all know that I'll be at the Ward 1 NPA meeting this week should you wish to grab some of my in-person attention. Additional legislators for our district will also be present and I'm thankful to Carol and Tom for putting the agenda together to discuss your legislative priorities. The NPA will meet at 7:00 pm at the Friends Meeting House at 173 North Prospect. I hope to see you there.
On Wednesday, I was honored to witness the election of Representative Jill Krowinski from our own town of Burlington as Speaker of the House of Representatives for another term. I align well with her platform and look forward to working with the rest of the House to pass some progressive legislation that will serve the working families of our district well. Shortly following that we were all sworn in and then officially seated before receiving our committee appointments. You can find me at seat 54. I've got essentially a front-row view of anything happening from the Speaker's podium.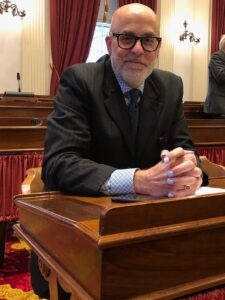 I've been appointed to the House Committee on Corrections and Institutions. Our committee is led by Representative Alice Emmons as Chair. Rep. Emmons is also currently the longest serving member of the House, so I'm grateful to have landed in a spot that should foster mentorship from such a committed and experienced legislator. This committee considers policy matters relating to the Department of Corrections and the appropriation of funds to maintain public buildings and State lands/property. If I'm being fully transparent, I had not listed Corrections and Institutions at all on my list of top five preferred committees. That being said, the corrections policy work should align well with my commitment to restorative justice as we seek to impact our current approach to incarceration. I know that Rep. Michelle Bos-Lun will be reintroducing what was bill H.296 from the last biennium. Rep. Bos-Lun co-sponsored the bill with my predecessor and amazingly supportive friend and mentor, Rep. Selene Colburn. The intent of the bill is to prohibit cash bail for misdemeanor crimes that would be ultimately eligible for expungement. The cash bail system disproportionately impacts our most impoverished Vermonters, often resulting in individuals spending months in jail awaiting trial for the sole reason that they are unable to afford even a $200 bail. The legislation did not make it out of committee last biennium, but I am assured that there remains a lot of positive energy in support of the bill. I intend to add my support to the bill.
On Thursday, I "enjoyed" my front row seat to the Governor's inaugural address. For me, the highlight of that ceremony was listening to François Clemmons sing our national anthem. As I'm sure you know, François played Officer Clemmons on Mr. Roger's Neighborhood. I had an after school ritual as a child where my mom would give us carrot sticks to eat while watching the show. When I saw him in the audience I had such an wonderful moment of gratitude for the amazing presence and energy he adds to our Vermont community. But, as I indicated, that was the high point.
By no means do I disagree with our Governor's most strongly stated point that we must bridge the economic divide that remains between rural and urban Vermont. I just wish he would end his tendency to put our communities at odds with one another with the rhetoric he uses to make that point. The Governor mentioned Burlington at three separate times during his address, each time pointing out an unfair dichotomy with another more rural town. As identified well by this tweet, the Governor would be better served to realize that, when you zoom in on his over-generalized Chittenden County, our district's median household income is far more aligned with the more rural communities he compared us against than we are with the rest of Chittenden County. The essential workers that drive the economy of this city can no longer afford to live within walking distance of their employers. And while our Governor applies his entire focus on the infrastructure that will certainly be needed to transition our communities into accommodating electric vehicles, he completely overlooks the public transit gaps that would serve our working class communities (who will be the very last to afford electric vehicles) in the meantime. I am thankful to belong to a cohort in the House that is full of forward thinking colleagues. We're a younger chamber and a more populated by left-leaning legislators that we have been in a very long time. Despite my critiques, I am nothing but optimistic.
I'll close with a "what I learned"  moment from the week. On Friday, I attended a workshop sponsored by the Ways and Means Committee that was designed to help new legislators better understand our tax system. To make one of their points, they explained that groceries are exempt from sales tax. As they should be. That's an equity issue. But we have had debate on whether or not candy should be considered as groceries. Or does it make sense to tax candy? If we decide that we're cool with taxing candy, we'll need to define candy. Are marshmallows candy? Here's my a-ha learning moment of the week: Those that make such determinations have decided that if a food item contains flour, it's not candy. So Twix and Kit Kats are not candy. Enjoy accordingly.